About Saibatu Mansaray:
Saibatu Mansaray  is a former White House senior executive, a physician assistant, CEO and Founder of The Mansaray Foundation, a Muslimah and retired decorated United States Army Officer. After over 20 years of humble service in the United States, she has chosen to return to Sierra Leone to make a difference in her home country and our beloved African continent!
"Being born to two devout Muslims from Sierra Leone, West Africa my siblings and I were raised on the principles of Islam.  My parents led by example and Salat, Zakat, Sadaqah, Siyam, reading the Quran, being amazing children to my grandparents, celebrating Eid and looking forward to performing Hajj were paramount in our household. Islam was a way of life and I am extremely grateful that my parents did not only teach us about our religion, but most importantly they demonstrated it in their day-to-day.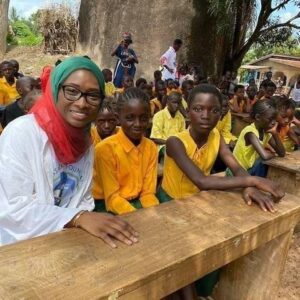 At the age of 19, I relocated to the United States and within 6 months I had enlisted in the United States Army and started basic training. Joining the military was one of the best decisions I have ever made! As an African woman and Muslim in the military I quickly recognized that I was the minority in any group I found myself. While I did not compromise my faith per se, I found myself not as committed to it as I had been raised. The Army was very supportive of me being able to practice my faith of which there were concessions made in the month of Ramadan and allowing me a few hours from work on Friday afternoons for Jumah prayers. Prior to 2017 Muslim women serving in the Army could not wear hijabs in military uniform due to military regulations, but the Army has made changes to its regulations and now allows Muslimahs to wear the hijab while in uniform. Truly remarkable to see the military make such monumental progress in the area of religious freedom for Muslim women.
I had the privilege to serve the last 6 years of my military service at the White House. My initial assignment was to serve as a White House Physician Assistant and Tactical Medical Officer to President Barack Obama for 3 years. I was the first woman the Army had ever sent to the White House to fill the role of a Physician Assistant. Subsequent to that role, I became the Director of Medical Operations in the White House Medical Unit. Both roles involved contingency medical planning ensuring the best pre-hospital, medical evacuation and hospital services were available to the president, vice president and their families. Following this position I was selected to serve as a military aide to Vice President Joe Biden and lastly as senior military aide to Vice President Mike Pence. I have been the only medical officer to serve in that role at the White House.
As an African girl who grew up in one of the poorest countries in the world, I never envisioned setting foot in the White House or better yet to have the opportunity to serve in pinnacle roles to America's top leaders. Growing up in Sierra Leone, I lacked professional African women role models and my only dream was to be able to graduate high school and maybe someday become a medical professional and tackle the country's high maternal mortality rates. Truly America is the land of promise for immigrants, where we can visualize our dreams and actually make them a reality. I have been a Physician Assistant for 15 years and I look forward to returning to Sierra Leone in the near future and use the knowledge and skillsets I have gained to improve the community I grew up in.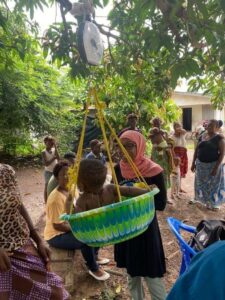 In April 2019, my sweet father passed away in Sierra Leone and it hit my family extremely hard. In the Quran, there are numerous verses that remind us that we will be tested and this was truly a test for me. At the same time, Alhamdulillah for if it were not for that adversity in my life, I would still be lost. Allah returned me to the principles of Islam that I was raised upon, strengthened my Iman and has kept me steadfast upon His Deen. Since then I have worn the hijab and Salat, Zakat, Sadaqah, Siyam, reading the Quran, being the best daughter I can be to my mother, teaching and showing my children Islam, celebrating Eid and Inshallah looking forward to Hajj are paramount in my household. I ask Allah to make us of those who will use this life we have left wisely and that He graces me with an opportunity to make a difference in the life of African women and children.
Biography: Saibatu has a Master of Physician Assistant Studies from University of Nebraska Medical Center and is currently a candidate for her Master in International Service with American University. She served 23 years on active duty with the United States Army and retired in October 2017. Her work at the White House led her to travel to 45 countries and 46 states. Today she is a hijabi serving as an Assistant Director for Public Health at the White House Office of National Drug Control Policy. In this role she leads a team of dedicated and passionate public health analysts that work across the federal government to synchronize, coordinate and implement the president's public health initiatives in his National Drug Control Strategy aimed at addressing and combating the addiction crisis. Saibatu looks forward to returning to Sierra Leone to empower young women through mentorship programs and create an environment where vocational, educational and entrepreneurial skills are developed and enhanced. She wants the next generation of Sierra Leonean girls to have local and continental role models with extraordinary drive to be successful despite their environment. Her long-standing passion is to address and combat Sierra Leone's maternal mortality crisis through collaborative efforts of both grassroots and non-profit organizations."