Sierra Leonean British Actor Idris Elba And Wife Sabrina Launch S'able Labs Skin Care Line
Sierra Leonean British Actor, Producer, and musician Idris Elba has with his Wife Launched a new skincare products
Love is a beautiful thing and having a brand together with your partner, is an amazing venture.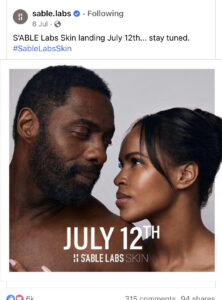 Well, this is exactly what Idris Elba; a Sierra Leonean actor, and his wife; Sabrina Elba are doing. They are building an empire.
The actor recently took to his Instagram, revealing the date of the launch of a skin product called; S'able Labs Skin.
As was expected, the couple launched the skin care products, on 12th July in London. Sable labs skin is a multifaceted well-being brand that caters to people of all ethnicities, genders, and backgrounds. The genderless skincare brand is made with ingredients from all African continents as it is focusing on hyperpigmentation, easing inflammation, and improving skin health.
As it was an emotional experience to finally launched their skin product, Sabrina Elba took to her Instagram to express how grateful they are for the support given to them and that, the product is now available for sale
Lots of memories were created as friends, family and loved ones were in attendance to support the couples including our own Sierra Leonean artists; DJ Rampage, Drizilik, and Tyla Magic.
Idris Elba and his wife Sabrina attest that what makes their product stand out is that it is not gendered or based.
In keeping with this, the Elbas want to refute the widely held notion of self-care. Sabrina remarks,
"The idea that self-care is all about you "feels like an almost selfish way of" thinking. So, how does unselfish care for oneself manifest?"
Idris adds "I don't want men to feel that skincare is just for women, and vice versa."
The Elbas' goal was to work with small-scale farmers from all over the world, particularly in Africa, to develop genderless, multipurpose skincare with ethically obtained ingredients allowing them to honor their heritage.