AMB. LADY NATA JOINS OTHER HOUSEMATES TO DUBAI
The Cribs International partnership with Housemates Salone has reiterated the fact that it's a bond founded on integrity and the relentless passion to rebrand Sierra Leone.
After being awarded the ambassadorship of Cribs International at the just concluded HMSL3 Show, Lady Nata had the opportunity to meet with the CEO of Cribs International at their head office at Wilkinson Road.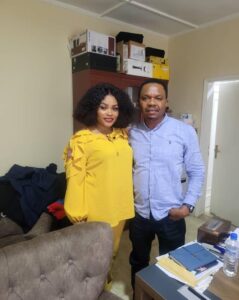 The CEO, Mr Theophilus ShoCole was present to welcome Lady Nata and gave her a tour of the multi-million edifice. After a thorough tour, the CEO spent quality time getting her abreast with the vision, goals and operations of the company.
Details of their functions which includes and not limited to Indoor, Outdoor PA Systems hire across the Mano River, Event Management, Artist Management, Music Production, State of Art Indoor Studio for live recordings and others.
He then presented her with a return ticket to Dubai, fully paid hotel accommodation and traveling allowance so she can join the other Housemates to celebrate the end of a successful show and the new beginnings with endless opportunities she has acquired due to her partnership with Cribs International.
Lady Nata glowed with endless smiles and showered praises on the CEO of Cribs International as she stated that been an ambassador of Cribs International is a dream come true for her. She pledged her commitment to Cribs International and promised to fly their banner high.
Lady Nata is currently in Dubai with other Housemates in high spirit.