Popular singer Atical Foyoh has taken on his social media to give his opinion about the relationship between housemates Mamy Thomas and Lolo Simeon.
Singer Atical Foyoh commented that the relationship between Mamy Thomas and Lolo Simeon is going to last longer than the other housemates.
Taking on his social media
Atical Foyoh noted in Krio "Ah dae see say dis relationship get for lass long pass all de oda relationships dem wae happen nar de housemates season 3 house!"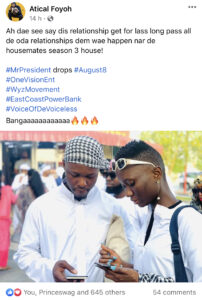 Mamy Thomas and Lolo Simeon fell in love when they were in the house according to what they put on the internet.
It is also noted that the winner of housemate Juliana Conteh aka Julie Tombo is in relationship with Nohmi George whiles Double D and Alice are also dating.
Read also: Drizilik Reveals Date For His New Single With Idris Elba
Foyoh was born and raised in the East End of Freetown, he started his career as a musician in 2001, and in later years he had his first megahit with the song title "Isha" alongside Shady Baby.  He is currently the CEO of One Vision Entertainment and President of the East End Artists Union. Foyoh is also an actor, he has played key roles in several movies along with Sara D Great, Kosombo, and several others. He has performed on different shows across West Africa, and has collaborated with the likes of LAJ, Arkman, etc…