Comedian Yemata Kamara Bags another Ambassadorial Deal With Odogwu Bitters
Popular Sierra Leonean standup comedian Yamata Kamara Bags Another Ambassadorial Deal With Odogwu Bitters
comedian Yamata Kamara bags another endorsement deal with Odogwu Bitters. The actor took to his Facebook handle and shares some pictures taken while signing the papers.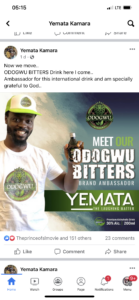 comedian Yamata also revealed that this is an international appointment  See what he posted below;
The Odogwu bitters drink is a natural blend herbal alcoholic drink which contains honey and ginger.
The Odogwu bitters drink is said to be an energy booster that helps in increasing the libido and provides antioxidants that helps the digestive system of the body.
The Odogwu bitters drink is produced in Nigeria by IKI Leads and is owned by chief Innocent Onwunali.
The company is specialize in the distilling, blending, packaging, and marketing both alcoholic and non-alcoholic beverages.