Curbing the Challenges of Health Services for the Aged, how a Single Story is Changing the Narratives
By: Sulaiman Stom Korma.
In 2016 a tragic incident that has now turned out to be a solution for the aged happened.
Mohamed S. Bah witnessed a scene where a pregnant woman was carried on an ordinary blanket from the Gravel Boom Community, which is one of the deprived communities within Freetown, to a hospital that was miles away from their community. The community is deprived, isolate, and not motorable making it difficult to access the community whenever something tragic happens, it takes the grace of God to salvage it, especially with pregnant women.
Read also from Sulaiman Stom Korma: FOCUS 1000 Holds Media Breakfast for Journalists on the Tobacco and Nicotine Control Act
On this day, while some of the community members were carrying a pregnant woman to the hospital, one of them carrying her tripped and the woman fell, miscarried, and died. This terrible and pathetic scene created shock and dismay for Mohamed S. Bah, who turned this sorrowful event into inspiration and immediately considered humanitarian support to that community and other deprived communities. "I was disturbed with that incident, the woman, the unborn baby the negative impact with their relatives, all that came to mind. I immediately called a meeting with chiefs and other authorities in Gravel Brook and five other surrounding communities, then I started with basic medical assistance to some vulnerable people in those communities". Said the founder of Health Care for the Aged.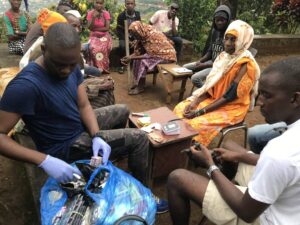 But considering the general situation of the Aged in Sierra Leone which is very appalling, and needs urgent and special attention, he decided to form the Health Care for the Aged Organization (HCA) to exclusively cater to the wellbeing of vulnerable older people whom he believes might have contributed in building Sierra Leone one way or another during their youthful ages. "I am targeting those older people that are helpless and mostly found in hard-to-reach or deprived communities, especially in Freetown and its surroundings, they need our attention and support; that is externally the call I am adhering to". He said.
In 2022, there are 771 million people aged 65 years or over globally, 3 times more than the size in 1980 (258 million). The older population is projected to reach 994 million by 2030 and 1.6 billion by 2050. The current life expectancy for Sierra Leone in 2022 is 55.55 years, a 0.67% increase from 2021. According to the 2015 Population and Housing Census, about 3.5% (246,284) of Sierra Leone's total population is aged 65 and over, of which 47.4% and 52.6% are male and female respectively.
HCA is a health and social rights policy advocacy Community-Based Organization dedicated to working with the Vulnerable Aged, especially from 60 years upwards. It aims to support the selected beneficiaries with basic health assistance and at the same time advocate for policies to meet the rights and dignity of depraved aged who have been abandoned on the fringes of humanity despite their contributions to nation-building in their productive years. Since its inception in 2016, the organization has been embarking on a series of interventions to better the health and other conditions of older people in some deprived communities in Western Area Urban and Rural as well as Falaba and Koinadugu Districts in the North.
Unfortunately, this organization that is dedicated to providing free medical services for the aged is underfunded as 100% of its funding is generated from a few membership contributions "I have been using my finances and that of a few other members to run the organization and the medications we provide for them. We are overstretched now and need support, therefore, we are calling on all to aid and support us in his journey". He Explained.
The organization has rendered support to over 2,956 people in some deprived communities. They provide mobile phones to communities to alert them of an emergency, do screening, and provide medication and other medical assistance to those communities.
Six years on, the organization has grown big but with limited finance to take care of its current number or expand. "we are calling on the government, and philanthropists to support our initiatives so that we can extend our work and provide more services to the aged". Mohamed S. Bah.