Double A Appointed Housemates Salone Brand Ambassador for GeniusBet
Popular Sierra Leonean Musician and Disc Jockey (DJ) based in the UK Abdul Alhadi , otherwise known as Double A has been appointed as Housemates Salone International Brand Ambassador for GeniusBet Sierra Leone.
The announcement was made at the just concluded Housemates Salone reality tv final on Sunday 17th July 2022. The Minister of Tourism and Culture Affairs presented the role to Juju Jeks.
Double A will acts as official global brand Ambassadors for GeniusBet Sierra Leone, its range of online betting products including sports, live events, casino, virtuals etc.
This came at a time when GeniusBet Sierra Leone is aiming to further expand its global presence by positioning itself as a globally and locally recognised brand in Sierra Leone.
The brand ambassadors will be the face of GeniusBet's range of products and activities. Ambassadors will also participate in a number of GeniusBet's global marketing, communication and promotional programmes and activities.
With a growing global presence in key markets across the world, GeniusBet's range of products boasts an internationally recognised betting platform, meant for current and future generations, with high performance capability, security and productivity.
Taking on social media, he said
"I'm now the brand ambassador of the biggest betting company in Sierra Leone GeniusBet  the Dream has come true  thank you all for supporting me. Love yall so much. This is just the beginning 🙏🏾♥️"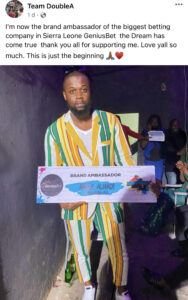 Housemates Abdul Alhadi aka Double A, born in Freetown Sierra Leone. Central/Fula Tong. He went to the UK at age 14 years, became a well-known Disc Jockey (DJ) in the UK where he started doing Afro-Salone music. He became the most popular Sierra Leonean musician in the UK and still currently. He went on tour with Nigerian superstar Lil Kesh, performed for Teni, Tekno, R2bees, Dbanji and many more.
His life as a musician is not easy in the UK, especially been a Sierra Leone as they fight to put Sierra Leone music on the map. He is also the only Sierra Leonean   musician who had 4 songs playing back to back on London's leading radio stations.
Housemates Salone (otherwise known as Housemates or #HMSalone) is a Sierra Leonean reality game, love and impact reality tv show based on a local content format.
Following the premise of a locally designed format (different from other reality shows), the Housemates Salone features a group of contestants, known as "housemates" who live together in both enclosed and opened-space house that is accessible to the public.
The Housemates Salone Yagba season was officially launched on Sunday, February 13th 2022 at Mamba Point Lagoonda, in Freetown.  The launching brought together high profile guests including the Minister of Tourism and Cultural, Hon. Memunatu Pratt, CEO of AYV Amb. Anthony Navo; Jnr, CEO of Africell, Mr. Shadi Gerjawi, Ms Saraih Robert, winner of the Housemates Salone Season 2 and people from all walks of life including celebrities.
The Housemates Salone, which is in its third year now has positioned itself as the most anticipated and followed reality television show in Sierra Leone and the sub-region.  This year's show which will be on the global Multi-Choice DSTV platform will be the biggest considering the ongoing trending activities and engagements on social media by individuals who are aspiring to be in the house.