Written by Bilal Kamara (MaM Volunteer)
5 out of 10 families in Sulima Chiefdom have relatives who have gone on the 'Temple Run' journey. Families sold their cows to sponsor their sons' journey overseas but only to get news that they died. Many young people from this part of Sierra Leone have abandoned their farms and trade for life abroad
Popular BBC SHORTLISTS ANTONIA HOWARD FOR 2022 KOMLA DUMOR AWARD
Awareness-raising session with pupils in Falaba
On the 27th of February, a team led by IOM arrived in Sulima chiefdom Falaba district on a two-day awareness-raising campaign about irregular migration, human trafficking, and safe migration.  Falaba is one of the largest districts in Sierra Leone and with a population of little more than 200,000 that make up the confluence of a few minority ethnic groups in the country… that is the Kuranko, Yalunka, Fula, and Madingo. Falaba is an entirely rural and relatively underdeveloped district.  Its inhabitants are mostly farmers, livestock holders, traders, and commercial bike riders. Lately, many young people from this part of the country have incongruously abandoned their farms and sold their cattle to sponsor a journey abroad.
Popular BBC SHORTLISTS ANTONIA HOWARD FOR 2022 KOMLA DUMOR AWARD
In early January, Migrants as messengers (MAM) held its annual general meeting in Port Loko district.  Migrants as Messengers (MAM) is a peer-to-peer messaging campaign where returning migrants share with their communities and families the dangers, trauma, and abuse that many experienced while attempting irregular migration.  One of MAM's volunteers named Mark got a moment of cynosure when he stood up and made an incisive proposal to the Migrants as Messengers network to organize an awareness-raising event in Falaba. A little blemish of awe bloomed on almost everyone's face when Mark disclosed that Falaba district is losing a large number of her youths to 'temple run' journeys.
Mark is a resident of Falaba district and a returned migrant from Libya. Doctor Mark as he is fondly called palpably surprised many when he returned to the farm that he abandoned some years ago for a dream of a life abroad.  Even though being an agriculturist, takes a lot of energy, Mark, however, managed to give his youthful energy effervescently to the mission of MAM. He has been sharing his stories in his hometown to save his fellow youths from taking up the dangerous 'temple run' journey.   'Temple run' is a slang used in Sierra Leone for irregular migration.
Popular BBC SHORTLISTS ANTONIA HOWARD FOR 2022 KOMLA DUMOR AWARD
Mark's proposal was approved and I was lucky to be part of the IOM-led team to Sulima chiefdom Falaba. IOM in collaboration with Migrants as messengers has been to almost all the 14 districts in Sierra Leone to raise awareness about irregular migration and help people to make an informed decision about migrations. For Falaba it was the first time, and Sulima chiefdom was the first targeted spot. Falaba is arguably the farthest part in Sierra Leone when coming from the capital Freetown. This is because the road leading to Falaba is in very bad shape. It is the worst I have experienced in Sierra Leone. It was my first time to travel to Falaba as such; I was shocked to discover the unpaved, rugged and rocky brown dusted road that leads to one of the biggest districts in Sierra Leone. We spent four hours covering what is believed to be 34miles. The four hours of shaking, bouncing, and slaloming on the deplorable Falaba road sent me to a state of retch. I had to tame my nauseous situation asking the driver for a piss break again and again.
It was dark and quiet when we arrived in Falaba town. Doctor Mark welcomed us to his home. He served us dinner on two big shiny plates. We ate and talked about the roads. When Mark disclosed that there is no guest house or hotel in the entire Falaba town, I saw a frozen smile of incomprehension on the face of Abdulrahman Kays a civil society activist and fortunately a member of the IOM-led team to Falaba. "A lot about Falaba has impregnated my thoughts," he said with a lopsided smile.  Mark has managed to organize some rooms for us in two small flats nearby. There is no electricity, so we had to use our phone's light to illuminate the darkness in the rooms until we later arranged for a generator.
Popular BBC SHORTLISTS ANTONIA HOWARD FOR 2022 KOMLA DUMOR AWARD
Our team Leader Mr. Barrie insisted that we held a short meeting before we said good night. He explained briefly our two days activities. "Gentlemen" his pizzazz voice alerted our attention. "Our mission here is to raise awareness about irregular migration''. He paused for some seconds after the interruption of the mooing of a strayed calf. He continued " We will provide information on misconceptions about living abroad… for many young people here are desperate to travel abroad and it seems the irregular means of traveling is the most common here''. He furthered, "We will achieve this through, holding meetings with some family heads, influencers, and community stakeholders, and we will do a film show and organize a football match between two chiefdoms". I was sitting there trying to keep my tired lackluster eyes open. On the next day, I was half woken up to the sound of the town crier. His voice blared through the megaphones forcing everyone to get the message. In the Yalunka language, he announced to the people our visit and reminded everyone about our meeting with them in the town hall. As the sound of the town crier faded, then the terrifying sound of chainsaw roared. I finally woke up and murmured, "Oh humanity is taking the chainsaw again to the tree of life".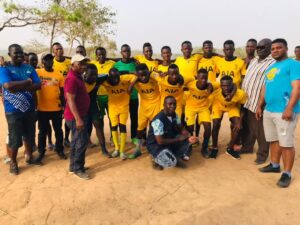 MaM Volunteers Organized football event to educate youths in Falaba about safe migration
Our meeting with stakeholders, influencers, youths, and community heads attracted a large turnout. The town hall was flooded with people as there were not enough chairs to seat them all. The steam of the day's heat and red dust wafted in the town hall. Mr. Barrie frequently mopped the perspiration on his forehead with a white handkerchief he clutched in his right hand. Families gave testimonies of how many cows they have sold to sponsor their children's journey to Europe but only to get informed that they died on the journey. Others grieved that they have not heard from their sons and brothers since they left. Ibrahim Samura a returned migrant from Morocco wiped the water welling up in his eyes with the tail of his t-shirt as he recounted his ordeals. Before the meeting at the town hall, we visited the Falaba secondary school and gave a short awareness-raising message to the pupils about the dangers surrounding irregular migration and advised them to always ask questions before making any traveling decisions. Mr. Barrie asked the pupils, "Who wants to go overseas?" All hands were raised. Mr. Barrie continued "but if you all decide to leave, who will stay behind to be our doctors, teachers, nurses, lawmakers, and farmers?'' No reply!  They all shook their heads gloomily as if they regretted raising their hands to the first question.  Mr. Barrie concluded by saying that "We are not here to discourage you about traveling; the work of IOM is to make migration safe and orderly". This time a relieving expression settled down on the faces of the children.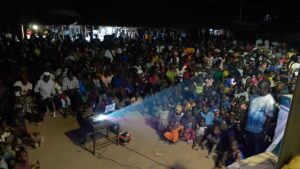 A video screening to encourage debate about informed decisions about migration
Another activity that attracted the turnout of almost the whole of Sulima chiefdom was the night film show. The kids ebulliently jumped around and jostled for front seats. The honorable paramount chief of Sulima chiefdom, Dr. Salifu Samura graced the event with his warm exuberance. The film showed migrants suffering and perishing in the Sahara desert and scenes of black African migrants locked up in inhumane Libya prison. A loud cry rose from the crowd of viewers when the film rolled a scene where a plastic boat crammed with migrants capsized in the rough sea. A lady in the front seat sobbed as she stared at the big projector screen. An aged man whined unceasingly as he watched the film revealing pictures of the derelict state of migrants. After the film, as we were packing out our gadgets and equipment, two young men walked up to us gushing with reverential courage and confessed that they have been saving money for traveling to Europe through the irregular way, but the film documentaries they had just watched has changed their minds and decisions.  I was left bewildered…..wondering what if we had not come to Falaba earlier than now?