Trevoh Chalobah: The Rise of a Mere Chelsea Ball-boy to Stardom in Europe
When Barcelona played at Stamford Bridge in the UCL Semifinals in 2012, on their route to winning their first ever UEFA Champions League trophy, one young 12-year-old child, who was an unknown Ball-boy at the time, was just thrilled to have caught a sight of Lionel Messi for the first time.
Trevoh Chalobah was overjoyed to even receive the chance to toss the ball to Lionel Messi on that UEFA Champions League night in London, not knowing that he would also become a star one day.
Popular Story Meet Yeanie Healen Sundufu : 26-year-old young Sierra Leone Entrepreneur , mobile makeup Artist, and hairdresser leading the way
Chalobah, according to Goal, said: "I remember being next to Mason in that game as well. I believe I was the one who tossed the ball to Messi, and I thought to myself, "Wow, I used to watch him on TV, and now we're watching him live." It was my first time witnessing Messi perform in person."
Trevoh Chalobah spent loan spells with Ipswich City, Huddersfield Town, and Lorient in France after graduating from Chelsea's academy. Trevoh Chalobah was an unused replacement in the Chelsea team that won the FA Cup by defeating Manchester United in 2018.
He didn't even play in the game, so he didn't have any impact. He wouldn't have been in the squad that traveled to Wembley Stadium for the game if Andreas Christensen hadn't been injured and couldn't make it.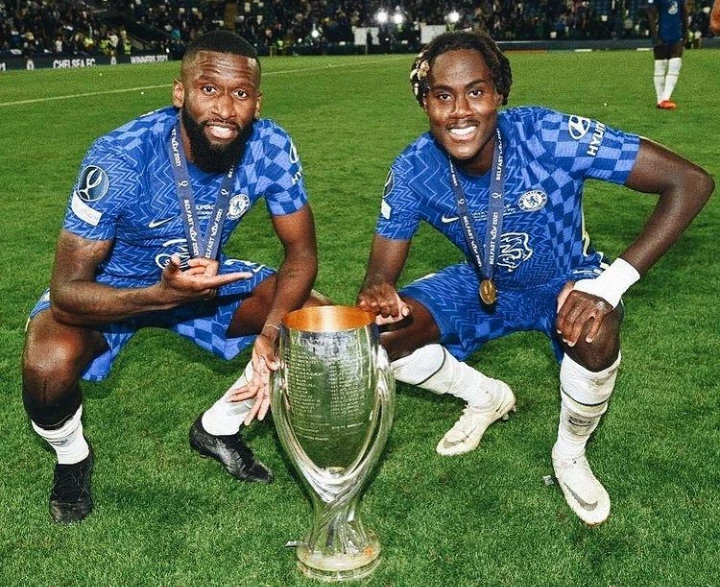 Despite the circumstances surrounding his inclusion in that squad, Trevoh Chalobah was overjoyed to be a part of it.
"I remember the day before the final, leading up to training, Andreas Christensen got injured, and they told me I'd be travelling with the group," Chalobah told Goal's Nizaar Kinsella.
"I was planning on traveling with the team and sitting in the stadium to witness the game. I was overjoyed to be traveling, but when I entered the locker room, I noticed my name written on the bench. I was on the verge of crying."
Trevoh Chalobah was crying tears of delight in 2018 because he had just made Chelsea's bench against Manchester United, not knowing that he would become a Star only 4 years later.
Trevoh Chalobah made his debut against Villarreal in the UEFA Super Cup Final earlier this season. Many Chelsea fans had never heard of him at the time, but he did more than enough in that game to make his name known to them.
On his Chelsea debut, he won the European Cup, but things got even better for the 22-year-old a few days later when he made his Premier League debut. He scored the game-winning goal against Crystal Palace on his debut, earning him the Man of the Match award.
Trevoh Chalobah developed a habit of scoring on debuts when he scored against Juventus in the UEFA Champions League. He was named Man of the Match for the second time.
This season, he has made 21 appearances for Chelsea and has already won two trophies. When Chelsea takes on Liverpool in the EFL Cup Final on Sunday, he'll be looking to win his third trophy.
Content created and supplied by: JohnnyMax (via Opera News )