It's Officially Dr. Tiwa Savage as Singer Receives Honorary Degree from University of Kent
Tiwa Savage now goes by Dr. Tiwatope Savage!
The award-winning singer, Tiwa Savage was awarded an honorary doctorate on Friday from the University of Kent in Canterbury, England. She was honoured with Doctor of Music for her inspirational and international career in music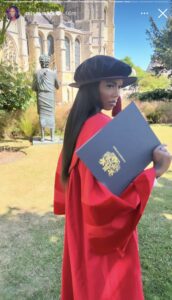 She was one of ten inspirational individuals awarded honorary degrees at the institution's congregation ceremonies at Canterbury and Rochester cathedrals.
Kent's Dr Catherine Robinson described her list of achievements "as lengthy as it is prestigious." She also added that "such a track record of exceptional and meritorious accomplishments deserves recognition."
In her acceptance speech, Tiwa Savage said; "I am proud to be receiving this [honorary degree] alongside my fellow honoraries at this great university."
Tiwa, who is also a Kent alumna, had the following message for graduates at the ceremony: "My prayer is that you one day will stand like this addressing students because you too have gone out into the world… and you never gave up."
She went on to sing a short rendition of "Optimistic" by Sounds of Blackness.