Juju Jeks Appointed Housemates Salone Brand Ambassador for GeniusBet.
Popular Sierra Leonean TikTok leader and Ex-Housemate Juliet Konya Sesay, otherwise known as Juju Jeks has been appointed as Housemates Salone International Brand Ambassador for GeniusBet Sierra Leone.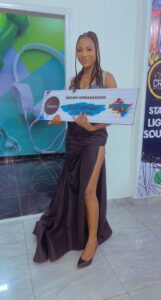 The announcement was made at the just concluded Housemates Salone reality tv final on Sunday 17th July 2022. The Minister of Tourism and Culture Affairs presented the role to Juju Jeks.
Juju Jeks will acts as official global brand Ambassadors for GeniusBet Sierra Leone, its range of online betting products including sports, live events, casino, virtuals etc.
This came at a time when GeniusBet Sierra Leone is aiming to further expand its global presence by positioning itself as a globally and locally recognised brand in Sierra Leone.
The brand ambassadors will be the face of GeniusBet's range of products and activities. Ambassadors will also participate in a number of GeniusBet's global marketing, communication and promotional programmes and activities.
With a growing global presence in key markets across the world, GeniusBet's range of products boasts an internationally recognised betting platform, meant for current and future generations, with high performance capability, security and productivity.
Juju Jeks has graduated from university and she is now an accomplished Multimedia Entrepreneur, Actress, and a Strong Girl who defied all odds to become a change maker. She is among the leading social media influencers in her country –Sierra Leone, with huge following. Juju Jeks is co-founder and CEO of TikTok Stars Association Sierra Leone. Juju Jeks is a multi-award-winning changer maker, actress and TikToker.
Juju Jeks resolved at a young age to become an actress and change maker. As a student, she took part in amateur plays and she has been featured in movie series in the country. Along with her film career, she promotes humanitarian causes and is vocal about girls and women's empowerment, working to create a better future for girls like herself across the African continent and the world at large through education, mentoring and multimedia technologies for social change.
Juju Jeks is a National Youth Service Corp (NYSC). She abandoned comfort zones to join the NYSC, and spent weeks in a training camp. She has been certified by the Government of Sierra Leone's youth programme as a National Youth Service Corp, recognising her as a Youth Ambassador.
Juju Jeks has also joined the Wave Alliance in Sierra Leone – an alliance of community organisations that is providing safe spaces, caring mentors, and a provision of weekly Surf Therapy sessions. The programme gives young people skills to cope with stress, regulate behaviour, build healing relationships, and make positive life choices.
The Sierra Leonean-born multimedia entrepreneur was recently recognised by the Commonwealth Global platform, as an emerging business leader and change maker. Juju Jeks is the Founder of Juju Graphic Designs and Juju Jeks Multimedia Conten , a network that empowers other young leaders, entrepreneurs, and major brands by creating and distributing contents and stories to multimedia outlets in Sierra Leone and abroad.
The 26-year-old is behind some of the most successful social-media campaign strategies for some big brands and entertainment projects in her country.
Juju Jeks was selected by the judges of the Housemates Salone as among the top contestants to be considered by a public vote to be a Housemate. Over 20 contestants made up of young men and women from different social backgrounds and experiences across Sierra Leone, Africa and abroad live in a house for seven weeks and compete for prizes.
The show which is aired on DSTV is being produced by the Africa Young Voices (AYV) Media Empire – lead TV in the country and Africell-Sierra Leone- lead telecommunications company in the country.