Young Sierra Leonean Multimedia Entrepreneur, Actress and Humanitarian; Juliet Konya Sesay, popularly known has Juju Jeks has pledged to give part of the proceeds of her recently held Juju Jeks Festival – a fundraising event to support the Wave Alliance Surf Therapy. The programme is an example of Sport for Development (SfD), with an explicit focus on mental health and well-being.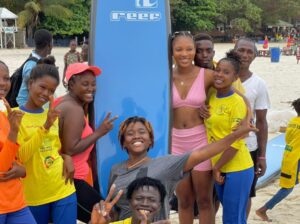 Follow Salone Messenger on Facebook, Instagram and Twitter
Juju Jeks was introduced to the programme by one of the local mentors, Fatmata Bundu. During her visit to the surf therapy session at the Number 2 River Beach, Juju Jeks said: "I am excited to be collaborating and supporting the Wave Alliance. I like surfing. I like the challenge, the fun, and the games. Whenever I am on the beach, I always felt happy and relaxed. Surf therapy provides young people with the opportunity to practice new behaviours and coping skills that can improve the way they deal with the impact of stress.''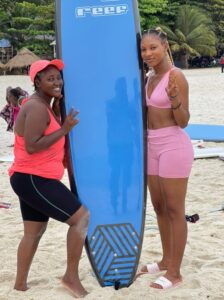 Along with her multimedia work and film career, Juju Jeks promotes humanitarian causes and is vocal about both girls and boys empowerment. She is committed to help create a better future for girls like herself across the African continent and the world at large through wellbeing programmes, education, mentoring and multimedia technologies for social change. Juju Jeks is an advocate, working to prevent teenage pregnancy, promote safe spaces for wellbeing and multimedia fit for young people.
Read her full story: Juju Jeks – Juliet Konya Sesay: The Girl Who Defied All Odds To Become A Change Maker.
Follow Salone Messenger on Facebook, Instagram and Twitter
Juju Jeks experienced difficulties while growing up as young girl in Sierra Leone. She was pregnant at a young age of 15 years. She was impregnated by fellow teenager. She endured a difficult childhood experience. The challenges Juju Jeks encountered during the pregnancy had a terrible impact on her wellbeing and family. But despite the shock of her situation, Juju Jeks never lost hope. She started on a journey of recovery, studying and working for a better future. After giving birth, she returned to school to continue with her studies. Juju Jeks has recently graduated from the university and she is now an accomplished Multimedia Entrepreneur, Actress, and a Strong Girl who defied all odds to become a change maker. She is among the leading social media influencers in her country –Sierra Leone and the co-founder and CEO of Tik Tok Stars in Sierra Leone.
Juju Jeks has been selected by the judges of the Housemates as among the top contestants to be considered by a public vote to be a Housemate. Over 20 contestants made up of young men and women from different social backgrounds and experiences across Sierra Leone, Africa and the Diaspora (America, Europe, Asia), live in a house for seven weeks and compete for prizes. The show which is aired on DSTV is being proudly produced by the Africa Young Voices (AYV) Media Empire – lead TV in the country and Africell-Sierra Leone- lead telecommunications company in the country.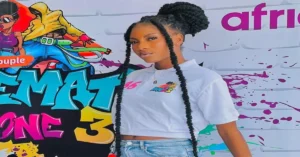 Follow Salone Messenger on Facebook, Instagram and Twitter
Juju Jeks is supporting the Wave Alliance in Sierra Leone– an alliance of community organisations that is providing safe spaces, caring mentors, and a provision of weekly Surf Therapy sessions. The programme gives young people skills to cope with stress, regulate behaviour, build healing relationships, and make positive life choices. The alliance is coordinated by the Messeh Leone Trust (MLT) with additional technical assistance provided by Waves for Change, an international award-winning Non-Profit that has pioneered the use of surfing as a health intervention. Evaluation support is provided by Edinburgh Napier University. The Alliance works in partnership with the Ministries of Social Welfare, Gender and Children's Affairs, Tourism and Cultural Affairs, and the National Tourist Board Sierra Leone. Implementing partners include Moseray Fadika Trust Foundation, United Sierra Leone, JOY Centre SL, Pipul Pikin Charitable Foundation, Young Leaders SL, also schools and communities.