Brief Biography of Drizilik
Benjamin Menelik George as he was originally named by his parents, is commonly known as Benji, Drizilik, Drizla or Ben 10/10. He was born in 1994, was raised and gained his educational and entertainment background in Feetown, Sierra Leone.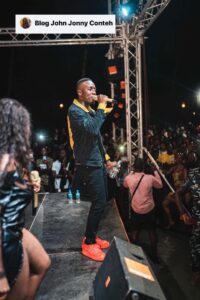 Drizilik became one of the most popular Sierra Leonean artistes in December 2015, by being a character who contributed to the rise of the "New School" by releasing one hit song that portrayed true Salone music identity, after the long drift away; titled pop collar. He released his debut album titled "Shukubly" on December 1st 2018. The 10 track LP was led by the single "Shukubly" ft Dj Rampage. The shukubly project got on to influence not only the sound of the new generation but brought to light a whole new fashion trend amongst Sierra Leoneans home and abroad. The album critically acclaimed and earned him 4 wins at the National Entertainment awards, including Album of the Year, Best Afro Hip Hop Artiste of The Year, Male artist of the year and Best Live Performer. Exactly 2 weeks after, He won his wish upon a star award; The All Works of Life (AWOL) Artiste of the year.
He has Performed at Festivals Across Sierra Leone including The MaDengn Arts and Cultural Festival, Freetown Music Festival, the first Tedx event held in Kingtom, Eco Festival by KME and also worked with Performing Arts institutions such as The Ballanta Academy of Music, Music & Music Ent, Freetown Uncut etc. His music is widely listened to across Sierra Leone and in Sierra Leonean communities in Europe and America, which led them (Himself and Freetown Uncut) to Embark on a UK tour in September and November of 2019. They made their first appearance in the UK at Hull City's Freedom Festival and further performed at 7 other places across London including the BBC World Service, worldwide FM, Soho Radio and more. He was also featured on the Vote Salone campaign which was supported by Action Aid and OSIWA, and toured across Sierra Leone, alongside other acts like Emerson Bockarie,Wahid, Kindo Armanie & King Fisher. Quite recently, he was reached by Idris Elba's team to be featured on MTV Base on the Africa day concert Hosted Idris Elba, where he definitely performed just as expected of him.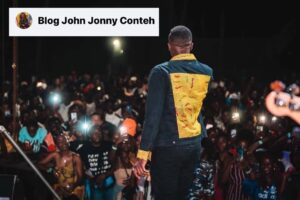 At the moment, Drizilik Is the brand Ambassador of the Biggest and widest network provider, Orange Sierra Leone and one of the leading banks, Guarantee Trust Bank Sierra Leone, The Entertainment Manager at Eminence Africa Entertainment and the co-founder of Shukubly Entertainment.
Drizilik is a brand influencer, youth ambassador, The youngest amongst the renown musicians and pride of Salone music!….