Hannah Tarawally is a Sierra Leonean  young entrepreneur and  CEO of Coffee Couriers
SALONE COFFEE: In celebration of International Women's Day highlighting and supporting / promoting Women in Businesses : Meet Go Woman Hannah Tarawally. I met Hanah Tarawally the CEO of Coffee Couriers, when she was 20 years old in 2014 and has just started her Coffee Couriers Business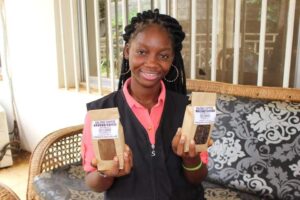 Hannah Tarawally started Salone Coffee when she sat her WASSCE exams but didn't have the funds to further her education . An expat Development Worker from Europe sent me an email introducing Hannah's Coffee Couriers. He came up with the business idea/concept , he was determined to sponsored an idea that would serve Hannah a lifetime-so she thought about doing coffee because she always had a passion for agriculture. At first she started off by buying imported coffee. She went to different offices to sell coffees.
Read more stories
Meet Amb. Paul Elongima Henry Joseph, The Most Vibrant Youth Leader, And the CEO of Youth Unite Africa
Hannah Tarawally prepared cappuccino, espresso,and different coffees .
When the Ebola epidemic started in Sierra Leone in 2014, Hannah stopped selling the coffees at the different offices. During that period she decided to source her own raw coffee from Kono and Kabala then process it into different forms.
Hannah Tarawally went through a lot of challenges and hardship until she mastered/ refined the art of making the finest Salone Coffee.
Her major challenge was packaging. With all her constraints Hannah has managed to maintain a successful small business and a shop throughout Ebola and Covid 19 Epidemic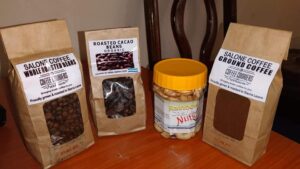 Hannah Tarawally proudly says she wasn't taught by anyone, she kept trying her best to put together the most delicious and aromatic coffee beans. Her relentless hard work and skills ended up increasing het earning potential . Today she is a successful business owner with a team of staff and a coffee shop.
She now produce Salone Coffee in a much larger, better and refined quantity that is proudly made in Sierra Leone.
Hannah's Coffee Couriers is available in different forms: roasted, grounded or unprocessed.
Support Women Entrepreneurship and buy Hannah's Coffee. @ Coffee Couriers Ltd
#WomenEntrepreneurship #womeninfarming #sierraleonecoffee #womeninagric #internationalwomensday2022#
Zee Tunkara Clarkson is Sierra Leonean Development /Business Consultant |PR| Women & Children Advocate| Social Entrepreneur| Global Citizen/