MEET OUR CHIEF JUDGE: Sana Kanu-Idibia.
AYVtv, Africel and Dstv have today announced the Chief judge –Sana Kanu-Idibia for the HousematesSalone auditions, to take place from Thursday 10th March to Sunday 13th March 2022, in Freetown.
Sana Kanu-Idibia, is a Sierra Leonean Nollywood Movie Star, Entrepreneur and Innovator. Sana started her career as a personal assistant to her cousin Idris Elba (the renowned global actor, producer, musician, and DJ).
Read related story
Sana is Founder and CEO of Sana Hair Collection, an international company which focuses on distributing beauty products to women from across the world.
Based in America, Sana runs several other successful businesses, with her husband, the Nigerian singer Hi- Idibia who is the immediate younger brother of one of Africa's legendary artistes, 2face Idibia.
Sana Kanu-Idibia will be part of a team of exceptional panel of judges for the Housemates.
REMEMBER:
#HousematesSalone3 applications close on 10th March 2022.
To apply ONLINE, please click the links below:
https://www.africell.sl/housemates/
www.ayvnews.com
Who is Sana Kanu-Idibia ?
One of Africa's finest talent Sana Kanu-Idibia who journey's gracefully through the glamour that surrounds the entertainment industry has always found a way to reinvent herself through the bright screen, magazines and fashion.  But before going into all her special and creative sense, let's go back to where the passion and influence all started.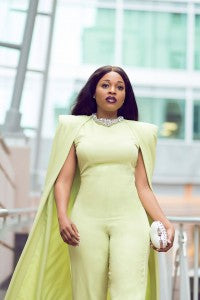 Before pursuing her passion for acting, Sana was the personal assistant to her cousin Idris Elba, while on the set of Daddy's Little Girl, her curiosity led her to observed and learned a lot about fashion and glamour from powerful  and beautiful women like Gabrielle Union, Tracee Ellis Ross and few other A list celebrities.
Sana being an entrepreneur young woman, an innovator, and a visionary, strongly believes in, doing what she loves, stayed focus and working relentlessly to share her creativity and passion with the world. She is also family oriented, and always keeps the strong family values that have shaped her life through these years. She is married to a Nigerian singer Hi- Idibia who is the immediate younger brother of the famous 2face Idibia, and they are blessed with two beautiful children.
Through her acting and networking with people from different spectrum of the entertainment business, she discovered and enhanced her other passion, which is beauty and fashion.  She ventured into running a hair salon and distributing beauty products to women from all part of the world. Her core essence is, beauty is the gift to life, and every woman deserves to shine and be as beautiful like a diamond in the sky.  As the love for beauty and fashion increases, She made sure she mastered the art,  which gave birth to her brand new adventure, SANA HAIR COLLECTION.