Franklyn A. O. Gibson Housemates number 24
Housemates number 24, Franklyn A. O. Gibson is a 34 year-old Sierra Leonean civil engineer with diploma in Building and Civil Engineering.
Franklyn A. O. Gibson was enrolled into the Ronsabs preparatory school in the year 1990, where he did his primary education and eventually sat to the N.P.S.E.
Franklyn A. O. Gibson enrolled at the Sierra Leone Grammar where he completed his higher school education.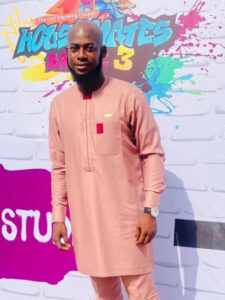 Franklyn A. O. Gibson have over the years been effectively working on building projects and some other profitable businesses on a medium scale.
"I grew up modelling my life to reflect an independent man who seeks to give hope and share the best of me with others.
I've had a passion for singing since I was a boy and this coupled with me being a light-hearted fellow, has given me, on a personal level, so much happiness.
My desire is to be able to provide employment for young men who are particularly interested in building and infrastructural development once I have a very good platform for that.
I'm single and working on myself to attract the kind of person that compliments my personality." Franklyn A. O."
Housemates Salone (otherwise known as Housemates or #HMSalone) is a Sierra Leonean reality game, love and impact reality tv show based on a local content format.
Following the premise of a locally designed format (different from other reality shows), the Housemates Salone features a group of contestants, known as "housemates" who live together in both enclosed and opened-space house that is accessible to the public.  The Housemates Salone has a COUPLING concept that is done at the start of every new week; the pairing was to initiate love, games, impactful challenges, interaction, and nominations.
The maiden Housemates Salone dubbed "the last standing couple" was launched on Valentine's day, with a SIGNIFICANT theme of GAME, LOVE, & IMPACT portrayed.
The CONCEPT is to pair the first twenty contestants on the night of the final selection of Housemates and UNSETTLE the pairing by throwing in an extra pair to commence the last standing couple game.
Housemates, most often men or women, are made to choose numbers to enable them to select their partners/couple for the week.
Once that is done, a number of love interactions, games/impactful challenges were designed to select the POWER COUPLE of the week.
The power couple is then exempt from elimination, but must ensure the house is in order.
In addition, contestants are required to compete in ways "to bring meaningful change" to various health, education, poverty, human rights, and environmental causes.
The housemates are continuously monitored during their stay in the house and outdoor activities by live television cameras as well as personal audio microphones. Throughout the course of the show, housemates are coupled together and are eliminated from the show – based on public voting. The last remaining housemate couple wins the competition and is awarded a cash prize.