With the heavy downpour of rains the past few days, photos of amazing police officer have surface the internet captured working during the heavy downpour of rains as it wow internet users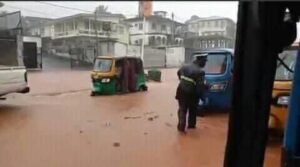 In the photos, the police officer was captured controlling traffic in the street of Freetown amidst the heavy downpour rains.
Internet users have taken up their social media platforms to celebrate the police officer after his photos surface the internet.
We blog posted
"Despite the heavy downpour of rain 🌧 This police officer is still working controlling traffic for drivers not to get collide at Wilkinson road.
They are the real heroes we should be celebrating in Sierra Leone
@Malik"
Kama Konike posted "This police officer must go viral
Deserved to be promoted"
On the morning of August 14, 2017, significant mudflow events occurred in and around the capital city of Freetown in Sierra Leone. Following three days of torrential rainfall, mass wasting of mud and debris damaged or destroyed hundreds of buildings in the city, killing 1,141 people and leaving more than 3,000 homeless.