Popular TV Presenter  lights up Facebook with Drizilik's Ashobi Dress
–  Michelle Jaward  has wowed social media users with her latest photos –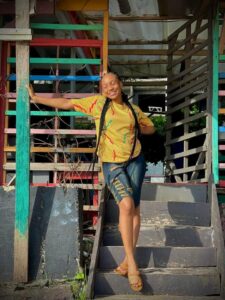 In the photos, the popular TV presenter Michelle Jaward flaunted her beauty in Drizilik's Ashobi dress.
– The photos have drawn massive reactions from her fans
Popular TV presenter,  Michelle Jaward, has stunned her loyal Facebook followers with three beautiful photos. The internet sensation has proven why she is among the breakout star in the country. In the photos sighted by Salone Messenger,   Michelle Jaward is seen wearing a beautiful  Drizilik's Ashobi dress.
Michelle Jaward: Tik Tok star lights up Facebook with 3 sumptuous photos
(Photo credit: Instagram/ Michelle Jaward) Source: Facebook
From the photos, she flaunted Drizilik's dress as she posed for the camera. She wrote, "Udah dae wae nor geh d ashobi? Drizilik this texture of the Shukubly T shirt is so good🤭❤️"  Michelle Jaward followers have reacted to the aforementioned photos.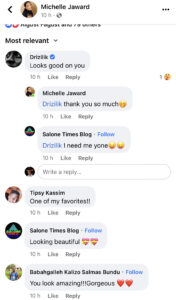 MICHELLE JAWARD – Michelle Marina Jaward is a TV/Radio presenter and Social Media Assistant at Africa Young Voices Media Empire, who started presenting in 2014 at Concept Multimedia. The 22 years old young star always dreamt of becoming a medical nurse but somewhere along the line, life happened and she delved into media and has since never looked back. She is the Co-host of the most watched and biggest entertainment hip hop show in the country – AYV Cyhper Un/Censored Show, and also the host of "Sabi The Lyrics" Television show. She is on a mission to become one of Sierra Leones' renowned media personality.