Promising Tv Presenter Juliana Elfrida Kabba Bags Award For Best Student Support Staff Performance
A young promising female presenter studying Mass communication, in her third year who doubles as a staff at the University's Television station at the Canadian University Of Modern Technology (CUMT)  Juliana Elfrida Kabba has bagged award for outstanding performance at the University.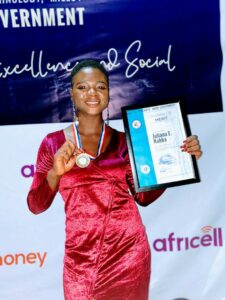 The award was given to her by the president of the Students Union body of the University
Popular BBC SHORTLISTS ANTONIA HOWARD FOR 2022 KOMLA DUMOR AWARD
It was meant to recognise students who have done incredible well.
Juliana Elfrida Kabba is a Reporter, Presenter and producer at the Canadian University Of Modern Technology (CUMT) Television. She presents the good morning show "Rise with CUMT" and her own program "Meet with your celebrity" where she gets to interview celebrities, notable among the list of people she Interviewed are Nasser Ayoub, Negadon LXG, K Rhyme, colabo, kings father etc
Taking on her social media platform after receiving the award, she said
"ANOTHER AWARD BAGGED IN!!.
CUMT Excellence Academic and Social award.
I am beyond blessed and humbled to be named the "Best Student Support staff (TV Personality) Award winner.
Some people work hard in this business and become really popular, really big stars but they never receive an award from within the business. Somehow, when your colleagues and friends believe in you to the point of handing you an award it means so much more.I first of all thank God for this, also many thanks to my family, and who in diverse ways helped me to bring the award home..God bless you all..I remain your humble servant .lol
#Multiple award winner
#Tv Personality
#Journalism Matters
#Presenter,reporter and producer"