Reactions as popular Rapper Speedo'o takes Selfie Photos With Fans In Wellington.
Sierra Leonean rapper  Speedo'o  took to his social media to share selfie photos with his fans in Wellington over the weekend.
During the Weekend Popular Rapper Speedo'o Visit one of his Fan Base in the eastern part of Freetown Having a Quality and fun Time
The photos  has, however, stirred positive reactions as some fans pointed out that the rapper is humble.
Taking to social media he said
"Selfie Time With My Wellington People
Koya Town Community
Thank You All Fam🙏❤️
Powered by Golden Chain Ent
Caption@ Kaskar Multimedia
#halleujah https://youtu.be/VTq0WlV807M
#streetWalk #TheKingMaker #talkofthetownmovement"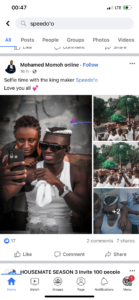 Alie Badara Kamara on Facebook posted
"The king maker speed'o , the big man rapper 🙌💪❤️ 💯. Africa fastest rapper SpeSpeedo'o Da Rapper Speedo'o Da Rapperpper , the mansa .Mr talk of the world🌍🌎 .A great day at wellington koya field community.TOTTM 🙌💪❤️💯TO THE WORLD🌎🌍🌎"