Sierra Leonean  players Yayah Kallon and  Mustapha Bundu have  been recognised among the most-valuable players in Sierra Leone according to Football transfers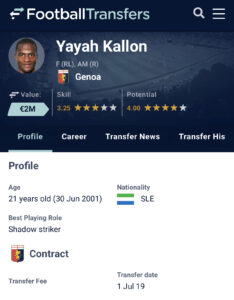 In a Football Tranfers report on the most valuable players (market value) from Sierra Leone , Yayah ranks number 1 with a £2.1M value  while Mustapha Bundu is the second with 0.8 million
Yayah Kallon, the most expensive Sierra Leonean player, is valued at €2m
Football  Transfer ranking shows how the 21-year-old ad the most expensive player from Sierra Leone.
Yayah Kallon ranks higher than Mustapha Bundu, Amadou Bakayoko, Mohamed Buya Turay, Alhaji Kamara , Augustus Kargbo, John Kamara, Julius wobay, Kei Kamara, George Davies , Christian Moses and is the most valuable Sierra Leonean  player according to the Football Transfers  ranking, followed by Mustapha Bundu.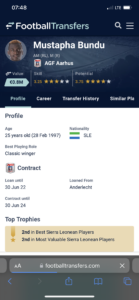 Yayah Kallon (SLE) is a a shadow striker and currently plays for Genoa. Yayah Kallon is 21 years old (2001/06/30) and he is 175cm tall. His preferred foot is Left. His jersey number is 20.
Yayah Kallon's current transfer value is between €2M and €3M.
Yayah Kallon latest transfers and transfer rumours, season statistics and career statistics are available on FootballTransfers.
Top 10 most valuable footballers by Football Transfer
Yayah Kallon                        £2.1M
Mustapha Bundu.               £0.8 M
Amadou Bakayoko              £0.4
Mohamed Buya Turay        £0.4
Alhaji Kamara                      £0.4
Augustus Kargbo.                £0.3
John Kamara                        £0.2
Julius wobay                        £0.2
Kei Kamara.                          £0.2
George Davies                      £0.1
The information provided here was gathered from Football Transfer website