Sierra Leone's Drizilik latest album Ashobi tops tops Fireboy,Omah Lay,Burna Boy, Kizz Daniel and other musicians currently number on audiomack'a Top Albums Chart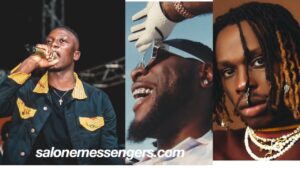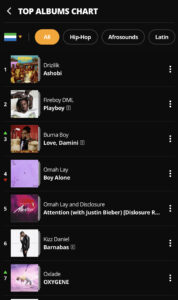 Global music streaming platform, audiomack, Top Album chats has released a list of their most streamed albums with Drizilik's latest album Ashobi topping the list.
The music platform, one of Sierra Leone's favorites, is also a core brand that propels African music to the rest of the world.
According to the platform, the current top chats  most-streamed albums include Drizilik Ashobi, Fireboy, Burna Boy's 'Omah Lay's 'Boy Alone', Kizz Daniel  and a host of others.
Audiomack is an on-demand music streaming and audio discovery platform that allows artists and creators to upload limitless music and podcasts for listeners through its mobile apps and website. In February 2021, Billboard announced Audiomack streaming data would begin informing some of its flagship charts, including the Hot 100, the Billboard 200, and the Global 200. In March 2021, Fast Company magazine named Audiomack one of the 10 most innovative companies in music