Sallu Kamuskay
12 February 2022
Profile & photographic collection.
''Growing up as a young girl, I was so skinny,  in a way that when you see me, you will tell my parent, take this child to the hospital, she is sick. I just think my modelling career was defined by the people around me who inspired me to believe in myself''  Lolo Simeon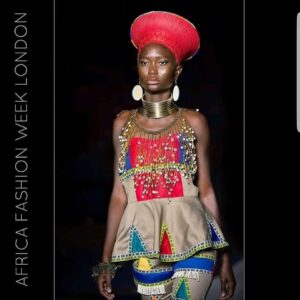 Meet Lolo Simeon, the trailblasing force of fashion modelling in Sierra Leone and abroad. This journey began at a startlingly young age. As the supermodel once explained, "Well, in brief, I was scouted  by an Africanist journalist who came to Sierra Leone and was writing stories about Bondo Mask, which is an object used by the secret society that is practicing Female Genital Mutilation (FGM). He needed a model to photograph with the objects that he was looking for. This  subsequently paved my way into the modelling industry and I was first taken to Europe for a modelling event''.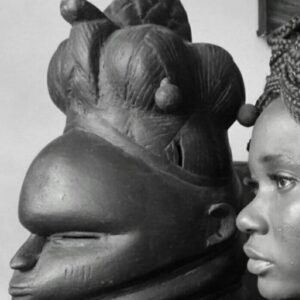 Just in few weeks after meeting this Africanist journalist, Lolo Simeon's childhood dream of becoming a model turned into reality – the future face of modelling was featured on major modelling platforms across the world. This trip abroad created a platform for the future and Lolo would soon use the platform to land starring roles in global fashion shows and transcend the catwalk to influence the wider culture around her.
Currently based in France – Born and raised in Freetown, Lolo Simeon, is a Sierra Leonean international model, interpreter, entrepreneur, founder of Fashion To Empower SL and Let Our Children Dream Foundation. Her Fashion company,  -Fashion To Empower Sl organises fashion events and competitions including Mister and Miss Best Model Sierra Leone, Runway Fashion Shows etc.
Growing up as a child in Sierra Leone , it was no bed of roses for Lolo. She has always dreamt of becoming a strong, independent, and generous woman of substance. She understood the challenges of life in an environment that gives men the right to maltreat women and take advantage of their vulnerability. Women and girls are left with little or no choice to become independent or self-reliant, they are forced to accept whatever is given to them. To go through University and succeed in whatever project was and is still extremely challenging for women, because of the sexual harassment that comes with it.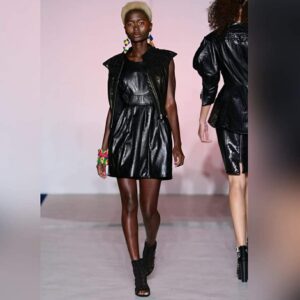 Along the way, however, Lolo would face personal challenges  in the industry. Her fortitude in the face of this atrocity helped to inspire  and empower her to overcome challenges. ''I did not come from a rich family. It was really not easy. There was a time when I faced challenges to pay school fees, but I had my late uncle, who was always there to help, in paying school fees.I was raised by a single mom as my dad was away.  First of all, I came to a country ( in Europe) where there is a huge language barrier.  It is a French speaking country, I don't speak French. So I came to Europe with one goal , and is to get myself the best education I can have and live my dream life. I went through a lot, I cut myself out of social media. I lived with a French family and for me to achieve my dreams, I had to work ten times harder than any other person in the town that I was. I gave birth to a son, and having a baby, trying to learn and trying to do the things I was passionate about –that was not an easy task at all. I had the possibility to give excuses of not wanting to pursue my education and dreams. The child and the language barrier were hard but I did not give up in my efforts to achieving my dreams.''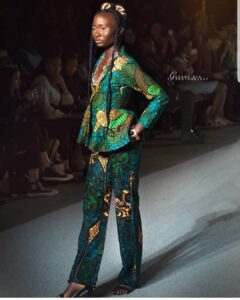 Lolo Simeon started her educational journey at the Ronsabs Preparatory in Sierra Leone. She attended  the Annie Walsh Memorial Junior Secondary School,  SOS Hermann Gmeiner School, and Royal Becklyn Academy in Freetown where she completed her Junior and senior secondary education. She traveled to France where she furthered her education. She sat to the Baccalauréat exam and passed with honors which earned her a space in the University of Lorraine Nancy where she graduated with a Bachelors degree in Langues Étrangères Appliquées  ( Foreign Languages Applied to Business). Lolo Simeon currently holds a Masters degree in Foreign Languages Applied to Business specialised in Translation Technology from the University of Lorraine Metz.
Lolo has also worked as an interpreter for SAMIE (Service d'Accompagnement des Mineurs Isolés Étrangers) and the Conseil Départemental of France. These Institutions are responsible for accompanying Foreign teenagers to integrate into the French culture by giving them all the support they need. Lolo has also  modelled for high fashion designers at Milan Fashion week, London African Fashion Week, Paris Fashion night Culture, Miss Supermodel worldwide Africa, Metz Festival de Mariage etc.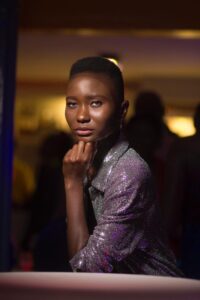 Back in her home country, Lolo is making a huge difference and changing lives. She is the founder of Let Our Children Dream Foundation. Her foundation help change the mindset of children and let them know they can dream big and become good citizens and to believe in their ability and willpower. Lolo's foundation also gives support to less privileged children across the city of Freetown including   Lumley, Godrich devil hole communities, etc. Lolo is working towards launching the very first reality tv shopping show in partnership  with leading television networks and United Sierra Leone.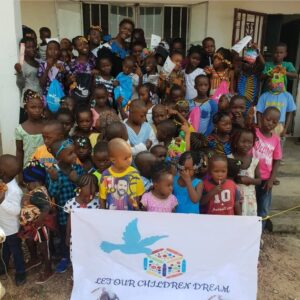 Lolo's greatest inspiration is  the late Dr. Myles Munroe, Bahamian evangelist and ordained minister avid professor of the Kingdom of God, author, speaker and leadership consultant who founded and led the Bahamas Faith Ministries International (BFMI) and Myles Munroe International (MMI), who helped rediscovered and gave her a clear insight into God's word. His words, teachings and values have helped shaped the woman she is today, Lolo told Salone Messenger. Lolo plans to continue in her effort to showcase the impact of fashion and modelling, in making the world a more better place. She plans to build recreational centres for school-going children across Sierra Leone and to have the first-ever international modelling agency that will scout and sell models across the world.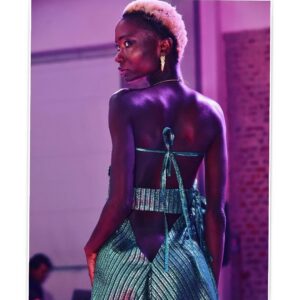 ''My message would be, do not limit your ability to your current situation or environment. Unlearn and relearn things that would shape and refine your mind for good. Remember, everything is possible only if we set our minds on it. Spread love and respect one another. Treat others as you may want others to treat you and let's make our country great and peaceful. If we sell our African culture more and we draw global attention, the world would want to come. So that is what I am  hoping that I achieve if  not only with me but with people that have the same interest in developing Sierra Leone and Africa as a whole and  our modelling industry because we have so much to show to the world''. Lolo told Salone Messenger.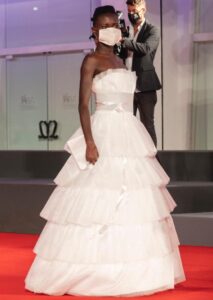 Lolo has started her work already to see the fashion industry and Africa models excel into an international market. She hopes to showcase Africa through fashion and through culture, particularly the Sierra Leone culture.  Lolo is working hard  to ensure  the outside world see what  Africa and Sierra Leone have to offer. She has started organising and mobilising people to follow her fashion and modelling work with a view to showcase Sierra Leone to the world.
| | | | |
| --- | --- | --- | --- |
| At Venice film festival at the 77th wearing Lelkalor, an Italian brand | Lolo Simeon at the Fashion night culture Paris | Lolo Simeon wearing Becca Apparel at the African Fashion Week in London 2018 | An enterpreneur, translator and founder of Let Our Children Dream Foundation |
| | | | |
| | | | |
| | | | |