Techfrica to Celebrate Audiofrica's 5 Years of Service.
July 29th – On Friday 10 AM, Africa's number one music streaming platform Audiofrica, is set to celebrate 5 years of service in providing Artists the platforms to create and make money from their talents with and eventful celebration at #9 love lane off Wilberforce Tengbeh Town, Freetown corporate office in Freetown.
Popular Tv host , Ellen Keister, sound engineer Nashito Kulala and popular traditional folk singer Fantacee Wiz will be guest speakers of the event.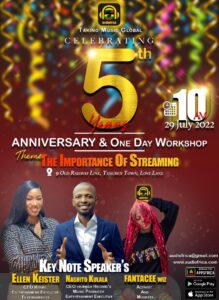 In an invitation post shared, they said
"TECHFRICA SIERRA LEONE LLC
The management and staff of Audiofrica is cordially inviting you to its 5th year anniversary and workshop with the theme :*"THE IMPORTANCE OF STREAMING "* .
*LOCATION*: Head office #9 love lane off Wilberforce tengbehtown ,Freetown.
*TIME* : 10: 00Am
With key note speakers from the industry like *ELLEN KEISTER ,NASHITO KULALA and FANTACEE WIZ KAMARA* and more .
Your presence is highly solicited as one of the pioneers of the industry and would be appreciated .Together we can change and bring value to our industry."
Audiofrica was built as a website and mobile application that enables artists to upload songs and for consumers to listen to them, while consumers have access to play and buy music on their platform.
African artists can get paid for their music being played or streamed on Audiofrica.