The Return of Juju Jeks To The Housemates Salone: "All I did Was A Game & I Am Here To Set The Records Straight."
The producers of the Housemates Salone Yagba Season have on Wednesday, 13 July 2022, announced the return of Juliet Konya Sesay, otherwise known as 'Juju Jeks' to the reality TV show, after she was previously evicted from the show due to health reasons, according to her Management team.
watch video here
The Housemates Salone announcement reads:
"WELCOME back to the #BigHouse 🏡 Juliet Konya Sesay #36 (Juju Jeks) as you continues your amazing journey. Juju Jeks is among the outstanding Housemates who have been INvicted (not EVicted) – brought back into the Big House." I am here to tell my own side of the true story and the reasons for leaving and coming back to Housemates Salone reality TV show. It's time to play the game and set the records straight."
In another viral video on TikTok, Juju Jeks stated that she was excited to come back to the house, noting that it was great she got a comeback and the opportunity to set the record straight.
In an earlier Housemates Fanzone interview with Huria Bangurah, Juju Jeks explained that it was her management decision not to vote for her because of illness while she was in the house. She noted that the Management team took a wise decision not to vote for her as the team wanted her to be evicted so she can focus on her health.
Juju Jeks was pregnant by fellow teenager at a young age of 15 years.
Juju Jeks tells Salone Messenger Media of the difficult situation she was trapped in. ''I was young, but I wasn't irresponsible.  My parents provided all the required support and I was living a good life in a beautiful house. But it is also a challenge for our society and our boys who otherwise lack any parental control or mentorship and are out there to prey on innocent girls'', Juju Jeks stated.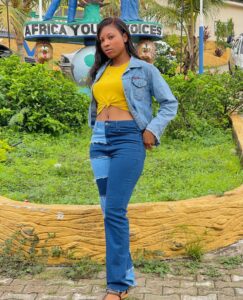 She endured a difficult childhood experience. The challenges Juju Jeks encountered during the pregnancy had a terrible impact on her wellbeing and family. But despite the shock of her situation, Juju Jeks never lost hope. She started on a journey of recovery, studying and working for a better future.
After giving birth, she returned to school to continue with her studies. Juju Jeks has graduated from university and she is now an accomplished Multimedia Entrepreneur, Actress, and a Strong Girl who defied all odds to become a change maker. She is among the leading social media influencers in her country –Sierra Leone and the co-founder and CEO of Tik Tok Stars in Sierra Leone.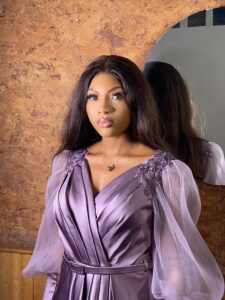 Juju Jeks resolved at a young age to become an actress and change maker. As a student, she took part in amateur plays and she has been featured in movie series in the country. Along with her film career, she promotes humanitarian causes and is vocal about girls and women's empowerment, working to create a better future for girls like herself across the African continent and the world at large through education, mentoring and multimedia technologies for social change.
Juju Jeks is a National Youth Service Corp (NYSC). She abandoned comfort zones to join the NYSC, and spent weeks in a training camp. She has been certified by the Government of Sierra Leone's youth programme as a National Youth Service Corp, recognising her as a Youth Ambassador.
Juju Jeks has also joined the Wave Alliance in Sierra Leone – an alliance of community organisations that is providing safe spaces, caring mentors, and a provision of weekly Surf Therapy sessions. The programme gives young people skills to cope with stress, regulate behaviour, build healing relationships, and make positive life choices.
The Sierra Leonean-born multimedia entrepreneur was recently recognised by the Commonwealth Global platform, as an emerging business leader and change maker. Juju Jeks is the Founder of Juju Graphic Designs and Juju Jeks Multimedia, a network that empowers other young leaders, entrepreneurs, and major brands by creating and distributing contents and stories to multimedia outlets in Sierra Leone and abroad.
Juju Jeks is co-founder and CEO of Tik Tok Stars Association in Sierra Leone. Ltd. Juju Jeks is one of the leading Tik Tok Stars, massive followers Juju Jeks is a multi-award-winning changer maker, actress and blogger.
The 26-year-old is behind some of the most successful social-media campaign strategies for some big brands and entertainment projects in her country.
Juju Jeks was selected by the judges of the Housemates Salone as among the top contestants to be considered by a public vote to be a Housemate. Over 20 contestants made up of young men and women from different social backgrounds and experiences across Sierra Leone, Africa and abroad live in a house for seven weeks and compete for prizes.
The show which is aired on DSTV is being produced by the Africa Young Voices (AYV) Media Empire – lead TV in the country and Africell-Sierra Leone- lead telecommunications company in the country.