It is no doubt that, in recent times, Sierra Leoneans from across the world keep celebrating their players after Sierra Leone qualified for Africa Cup of nation 2022, if not changing their profile pictures on Facebook, Twitter or Instagram, it will be doing painting or any form of artwork for the players.
In a Facebook post, young Sierra Leone painter Al-hadji Umar S Conté (Lahj De'Andre Alejandro Sway) shared post of his artwork of Mohamed Buya Turay after painting a beautiful artwork of him with the message
"God is merciful to those whom He sees struggling heart and soul for realization. But remain idle, without any struggle, and you will see that His grace will never come.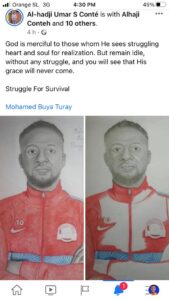 Struggle For Survival
Mohamed Buya Turay"
In reply to the post, Sierra Leonean footballer based in China reply thanking the painter and promises to see him whenever he comes to Freetown.
"Proud of you bro 🤩✊🏿❤️🤗 Al-hadji Umar S Conté, and looking forward to meet with you soon 🔜."

In a reply comment , the young art prodigy thank Mohamed Buya Turay for his comment and beg that Buya share the beautiful artwork of him on his social media platforms, "Mohamed Buya Turay ar want leh u post am na u page.. "