By: Eric Kawa
Meet Jaspher Ewny (also known as Dealrafael Jsp-E), an indigenous Hip-Hop practitioner, community youth activist and Hip-Hop Star from Uganda.
Dealrafael Jsp-E is the founder of the Lango Indigenous Hip-Hop Movement, a movement that projects the role of music and the arts in effecting change in the community.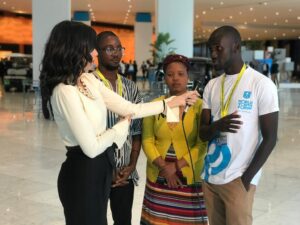 Lango Indigenous Hip-Hop strives to build a generation of youths making the most of Hip-Hop as a cultural tool to educate, motivate, lead and facilitate youth and community development.
Over the years, Lango Indigenous Hip-Hop has equipped youth and practitioners of the different elements of Hip-Hop in Northern Uganda to confidently breakdown, convey and put to a national spotlight the issues affecting their communities, through poetry and rap.
Meet Yeanie Healen Sundufu : 26-year-old young Sierra Leone Entrepreneur , mobile makeup Artist, and hairdresser leading the way
They have often advocated on issues including Climate change, HIV/AIDs and other diseases claiming lives of citizens, poverty, corruption and impunity, post-war recovery, poor resource allocation, among others.
The Lango Indigenous Hip-Hop pioneer, Dealrafael Jsp-E believes every young person deserves a sterling platform to express on issues surrounding their well-being and access to their rights. His dream was further taken to the 2019 edition of the global Youth platform, the World Youth Forum in Sharm El-Sheikh, Egypt. He was among the young leaders that were chosen in Africa to present and be part of the annual event. Dealrafael Jsp-E was then chosen among the One Hundred (100) youth delegates selected from the African continent to attend Africa's prestigious leadership programme, the African Presidential Leadership Program (APLP) in Cairo, Egypt.
At the forum, Dealrafael Jsp-E spoke more on Indigenous Hip-Hop, taking from the Lango Indigenous Hip-Hop Movement as a case study; he also talked about the Hip-Hop Declaration of Peace and its relevance in shaping the Hip-Hop culture for Africa's talented young generation.
As mentioned at the start of this piece, Dealrafael Jsp-E also has considerable knowledge in the field of sustainable agriculture; corresponding to SDG 2. Whilst in Sharm El-Sheikh, he had the opportunity of sharing his knowledge on farming to international media channels including Nile International TV and Central News.
His contributions to the interviews were centred on how his specialist knowledge as an Entomologist and a Microbiologist could contribute to food security and translate to achieving SDG 2 in Africa. His focus was on the use of biopesticides (including pesticidal plants extracts and entomopathogens such as viruses, fungi, nematodes and bacteria) as environmentally benign ways to control insect pests, and also highlighted the negative effects of synthetic pesticides on the environment, water sources and human health.He concluded his interviews on the opportunities and the potential of using biological pest control agents in Africa, particularly by smallholder farmers.
Jaspher Ewany (Dealrafael Jsp-E) hopes to have his name written in the books of history, as haven played a significant role in addressing issues related to the young generation through his Indigenous Hip-Hop work, Activism and utilising his specialist knowledge for community development.
Follow Jaspher Ewany (Dealrafael Jsp-E) on Facebook
Follow Jaspher Ewany (Dealrafael Jsp-E) on Instagram